Capital Allocation Program
AxiSelect is a capital allocation program designed by PsyQuation in partnership with AxiTrader to assist talented traders on their journey to becoming full-time traders with a guaranteed A$350,000 available per trader.

*Program Launch 17 Nov 2017
The AxiSelect is a merit-based capital allocation program.
The biggest challenge for any emerging trader is accumulating capital to trade. As active members of the forex community we identify with this challenge and wanted to play an active role helping solve it. To achieve this we partnered with AxiTrader to design the AxiSelect program. The foundation of the program is built around our ability to identify trading talent through our proprietary PsyQuation Score™ filter.
The program has three progressive phases: incubation, acceleration and Pro. Moving from stage to stage a qualified trader with consistent advancement gets an allocation up to a guaranteed A$350,000. At the Pro stage, PsyQuation will promote the Pro's on our soon to be launched copy trading platform enabling qualified Pro traders a great opportunity to raise significant capital.
Traders earn 20% of the profits as a performance fee from the allocated capital with the ability to raise much more money having an institutional investor as part of your track record.
AxiSelect Inclusion Criteria
Account Age more than 6 months. You can qualify for AxiSelect with any MT4 broker account
Minimum Account Size of A$1,000
Account is profitable from a net $ dollar and % return
A master account is setup with AxiTrader
Account Age more than 12 months. You can qualify for AxiSelect with any MT4 broker account
Minimum Account Size of A$1,000
Account is profitable from a net $ dollar and % return
A master account is setup with AxiTrader
Steps to Get an Allocation
You need to be a registered PsyQuation user.
If you don't have a free account, please sign up now
Account history from any MT4 broker is seamlessly merged with your PsyQuation account.
If you see that your trading account meets program requirements contact support@psyquation.com
Also, we are regularly checking our database and you can receive such notification from us.
Please note, that you can qualify for AxiSelect with an account from any broker. However you will need to setup an Axitrader account to join the program. If you don't have one, click here.
If your account meets the criteria listed, you will be included in the program.
You will receive your trading capital usually within 24hrs of being accepted into the program.
PsyQuation has designed the AxiSelect program so that the trader receiving the allocation has "skin in the game". It means that the trader continues trading the account that qualifies for an allocation as the "Master Trader Account".
AxiTrader creates a new Slave AxiSelect account and allocates trading capital to it. The qualifying trader notifies PsyQuation of an appropriate multiplier for the slave to copy from the master account. From now on we use our technology to copy everything the trader is doing on Master Trader Account to Slave AxiSelect Account as per the agreed multiplier.
We add Slave AxiSelect account to the trader's PsyQuation profile and provide the qualifying trader with an investor password for the Slave AxiSelect account to enable real time monitoring.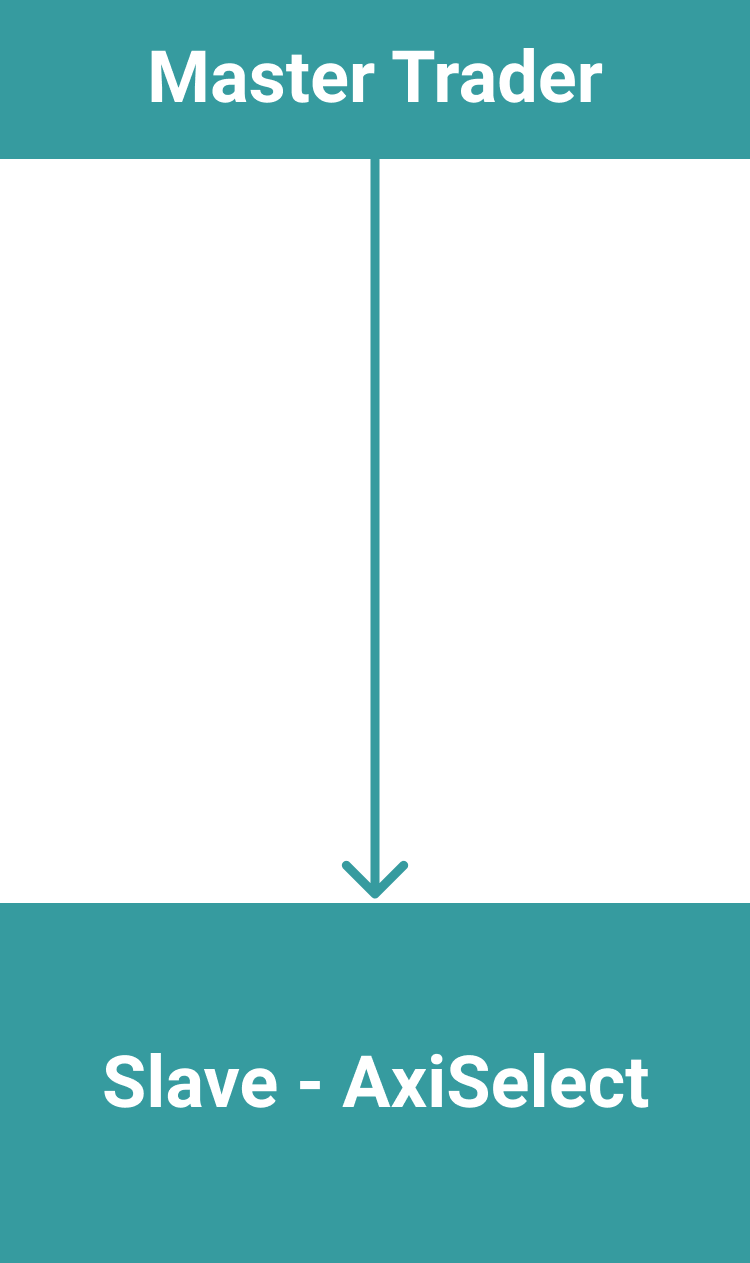 Q: Can I qualify with a demo account?
A: No, only live MT4 accounts that meet our criteria will qualify for the AxiSelect program.
Q: Do I need to have an AxiTrader account to take part in the program?
A: You can qualify with an MT4 live account from any broker but to join the program and receive trading capital you will need an AxiTrader account. Your trading history from any other broker can be merged into your PsyQuation account.
Q: How to move to the next program stage?
A: You can find rules for moving to the next stage in the full program description here.
Q: How much can I make with this program?
A: According to the current program conditions traders earn 20% of profits subject to a high water mark payable quarterly. Traders receive a management agreement to ensure payment terms are covered by contract law.
Q: What is the maximum allocated amount?
A: According to the program conditions, a maximum of A$350,000 per trader. However, there is no limit to the amount of capital you can raise from Investors on the PsyQuation Copy Trading platform when it launches.
Q: Where can I see traders who are in the program now?
A: You can find all accounts at their various stages of Incubator, Accelerator and Pro on tabs of the PsyQuation leaderboard.
Q: I can see traders with Max Drawdown more than 10% on AxiSelect Leaderboard. Why are they not excluded from the program?
A: The Leaderboard includes the accounts history before joining the AxiSelect program. The max drawdown rule of 10% in a month only applies from when the program begins. Furthermore, a drawdown breach of 10% does not mean automatic expulsion from the program but usually results in a 2 month "on the bench" period before being considered for re-entry.
Q: Didn't find the answer to your question?
A: Please reach out to us at support@psyquation.com, we will be happy to answer all your questions.
Q: What if I decided to change multiplier?
A: You can send us a request of changing multiplier at any moment you wish. We will modify the multiplier with best endeavours within a 24hr period weekends excluded.